Jack Ma made his first trip to Africa and NO, it isn't to Nigeria. Instead, the founder of the e-commerce company, Alibaba is currently visiting Kenya and Rwanda to look for deals and inspire entrepreneurs. The best part? He was accompanied by an entourage of 38 Chinese billionaires.


Trust him to deliver a couple of quotable quotes like these ones:
"You have to get used to failure. Just like boxing, if you cannot get used to being hit, then how can you win?"
"If the Government does not have a solution to any problem, it is an opportunity. If people complain, it is an opportunity."
"I have had so much rejection and dark days. People who complain don't go far."
"Find people who can be your boss, not those who are willing to be your servants. That is how you'll grow."
"I don't want to sell things to you guys, I want to help you sell things to the world."
"When I arrived in Kenya, my perception about Africa changed immediately," Ma said. "The world is full of worries, but in Africa, I have seen the passion and expectation. People are ready for change. This is exactly what I saw in China 30 years ago."
… And the most epic one:
"Give special attention to women. They will be the driving force of the 21st Century!"


Like Quartz Africa pointed out, the reception of his trip has been almost fawning in a way that Mark Zuckerberg's surprise visit last September was not. Floor-to-ceiling posters and billboards featuring his face decorated various venues where he has been speaking in Nairobi.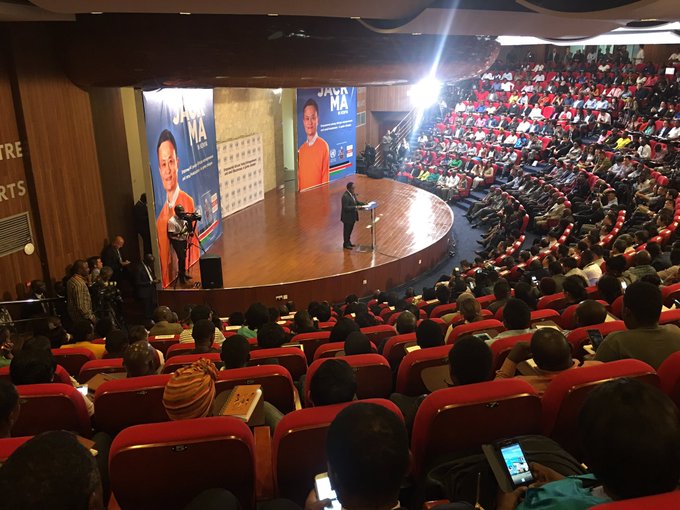 So, why not Nigeria? Why Kenya and Rwanda?

Apparently, East Africa is fast becoming an attractive investment destination, they 
recorded
 the highest share of Foreign Direct Investment in Africa, achieving 26.3 percent of total projects. (Source Ernst & Young's 2016 Africa attractiveness program via CNN). Jack Ma was also surprised by Kenya's broadband infrastructure and told some senior executives in Nairobi that he would consider investing in Kenya.
---
Nigeria, right now: